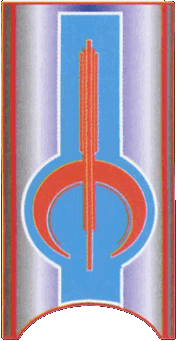 The Bajoran Web Page
Last update: 24th July, 1999
Dahkur Province, Bajor
Welcome!
As you may have noticed, the Bajoran Militia is now under new management. Unfortunately, real life interfered with the previous owner, Dayan Risto, and she had to give up looking after the site. I'm sure you will all join with me in wishing her the very best with her upcoming wedding and her studies.
I shall try to keep the site's look as simple as possible, while still going for a Bajoran feel. With this in mind, the graphics here shall be as simple as possible but still interesting. I am also looking to expand the site to include biographies on Bajorans, Bajoran history, artwork, architecture, etc. So, if you have anything you would like to see here, or want to request something, please drop me a line and I'll see what I can find!
Meanwhile, please stroll around and enjoy your time with us. And we apologise for the mess in the corner, I'm afraid the palaku isn't feeling very well at the moment.
NEW ADDITIONS:
* A new place for the Promenade! No need to login to anything, no joining, nothing. Just click and chat!
---
When including the militia in your regular information links, please use the banner below.


Bajorans have shown their support for their local militia.
---
---
Those ANNOYING pop-up windows are in NO WAY endorsed by THE BAJORAN MILITIA.
---
Copyright 1999, The Bajoran Militia.

Star Trek®, Star Trek: The Next Generation®, Star Trek: Deep Space Nine® and Star Trek: Voyager® are registered trademarks of Paramount Pictures and Viacom. All material found on this page is for entertainment purposes only, and not personal or financial gain. No infringements on their copyrights is intended.